05/2/2020
The famous lagoon of Balos is located approximately 56km northwest of Chania and 17km northwest of Kissamos, formed between the Cape Gramvousa and the small Cape Tigani and below the range of Platiskinos. Balos is surely the mostly photographed beach in Crete, a very favorite subject of all tourist guides for Greece. It is no coincidence that Prince Charles and Princess Diana visited Balos with their private yacht many years ago.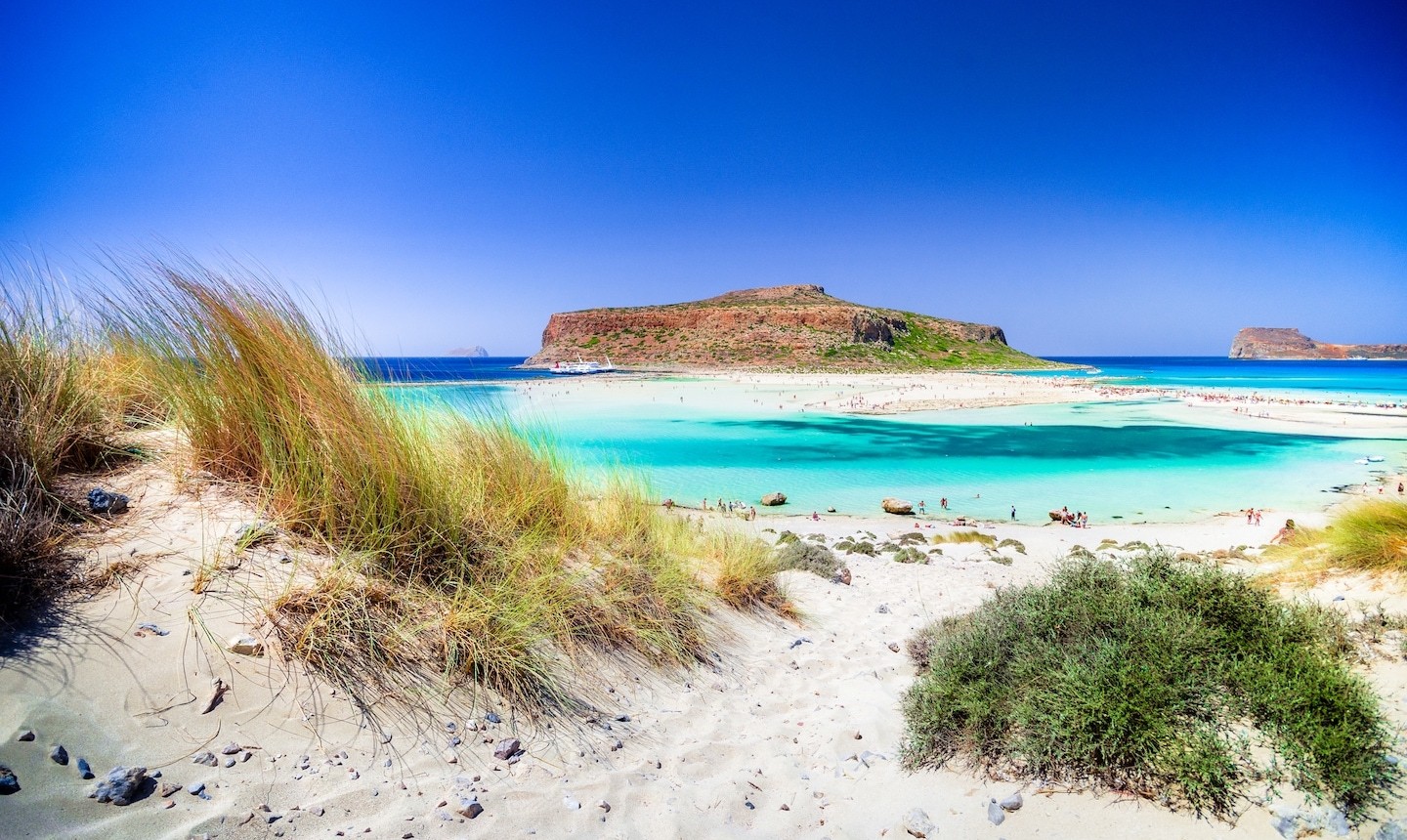 You can reach Balos Beach in two ways. One way to get to Balos Beach is by driving a car over a (not very good) road. You have to drive slowly, and the last part of the route is not suitable for cars. You'll still have to walk a an hour and a half before you're on the beach and back the hike lasts a little longer because you must climb up. Easier it is to go to the beach of Balos by boat from Kissamos.Balos is famous for its turquoise waters, the wild natural beauty and the beautiful exotic scenery. During the summer, Balos is visited by thousands of people, who arrive mostly by the ferries running from Kissamos port. If you do not like crowds, you'd better avoid to visit the beach in July and August. Also, a perfect idea is to arrive at Balos in the morning, before the boats arrive from Kissamos. These few hours of remoteness in such a heavenly place will remain etched in your memory forever.

The area is far more beautiful and atmospheric in the winter months where you could be the only person in the area. Failing this, if you want to enjoy some peace and quiet try to drive to Balos early in the morning. Once the boats arrive and disgorge many hundreds of day trippers on the beach you'll be fighting for space.
The lagoon of Balos has white sand and exotic white, vivid blue and turquoise waters. The sea is very shallow and warm, ideal for young children. In many places the sand has a lovely pinkish color, because of millions of crushed shells. Beyond the rocks at the boundaries of the lagoon, the water is deeper and colder, ideal for a snorkeling. The lagoon and the wider area, with rare species of flora and fauna, are protected under the Natura 2000 program. Eleonora falcons, shags and cormorants nest in the caves of the area. Moreover, the area is a shelter for the protected monk seal and the sea turtle caretta caretta. Despite the protection, a primitive café and umbrellas have appeared on the beach in recent years. You can buy water from there and from the bars of the ferries.You may be in a hurry to experience the fine turquoise water of the lagoon,and the breathtaking view to Balos beach so book your with EcoEvents, so we can help you arrange everything that you may need for your excursion to Balos.

Take a small taste of this spectacular scecery of Balos at the video below: