08/10/2019
Renowned for spectacular seascapes of the South and the north long sandy beaches, Rethymno area is an almost never-ending paradise.
The southern coast of Rethymnon hosts some of the most beautiful, untouched exotic beaches of Crete. At Agios Pavlos, huge sand-hills descend steeply and vanish into the sea, forming a beach, where one may sense the most positive vibes of the island. On the adjacent beaches of Ligres and Pahia Ammos by Kerames the scenery remains mysterious. However, the most brilliant turquoise waters in Rethymnon are found on the beaches of Skinaria, Ammoudi and Damnoni, all located near Plakias. Let us introduce you some of the most beautiful,hidden sea wonders.
Paximadia Islets
Paximadia Islands are two small uninhabited islets off the Gulf of Messara, 12km (7.5 miles) south of Agia Galini. By far they seem like a single island because they are very close, but they are two islets, the Big and Small Paximadi, separated by a narrow strip of sea called Bogazi. You may also hear locals refer to these as "Elephant", since from Messara plane they remind of a lying elephant. Their total length is about 3km. Almost nobody knows that there are beaches on Paximadia, since they are thought to be two large dry rocks in the sea. The east (small) Paximada hosts four magnificent protected beaches with crystal clear waters and fantastic pebbles on the easternmost island. Paximadia can be accessed by excursion boats, running from Kokkinos Pirgos and Agia Galini.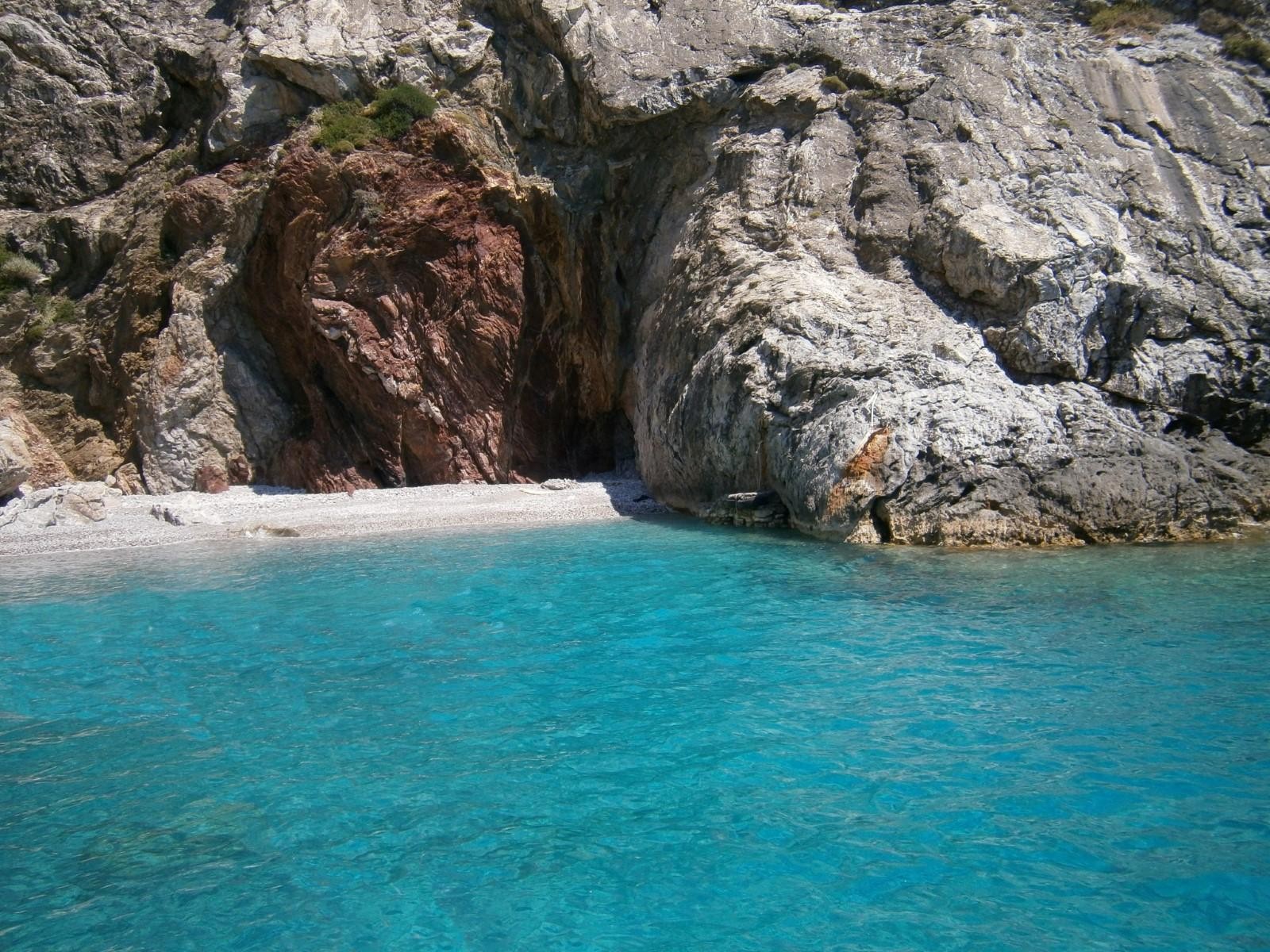 Triopetra Beach
Triopetra is located about 52km south of Rethymno and 13km southeast of the village Akoumia, at the foot of the mountain Siderotas and next to dense green olive groves. It can be accessed by car, through the paved roads that start from Akoumia or Sachtouria. Triopetra consists mainly of two beaches, which are separated by a small peninsula. At the edge of the peninsula, in the sea, three majestic rocks rise. Triopetra is named after these rocks, since it means "Three Rocks". The main beach of Triopetra, West Triopetra (or Chatzi), is formed west of the rocks and extends to the west for several kilometers. The beach has beautiful coarse sand and beautiful water colors. Its west-orientation makes it vulnerable to the western winds, but also famous for its fantastic sunsets. The east part of the beach is organized with taverns, rooms and umbrellas, but never seems crowded. There is a small river, with fresh water all year round. Camping is not allowed on the beach, but there is a stunning big cave with shape Δ near the three rocks, where you can find shade.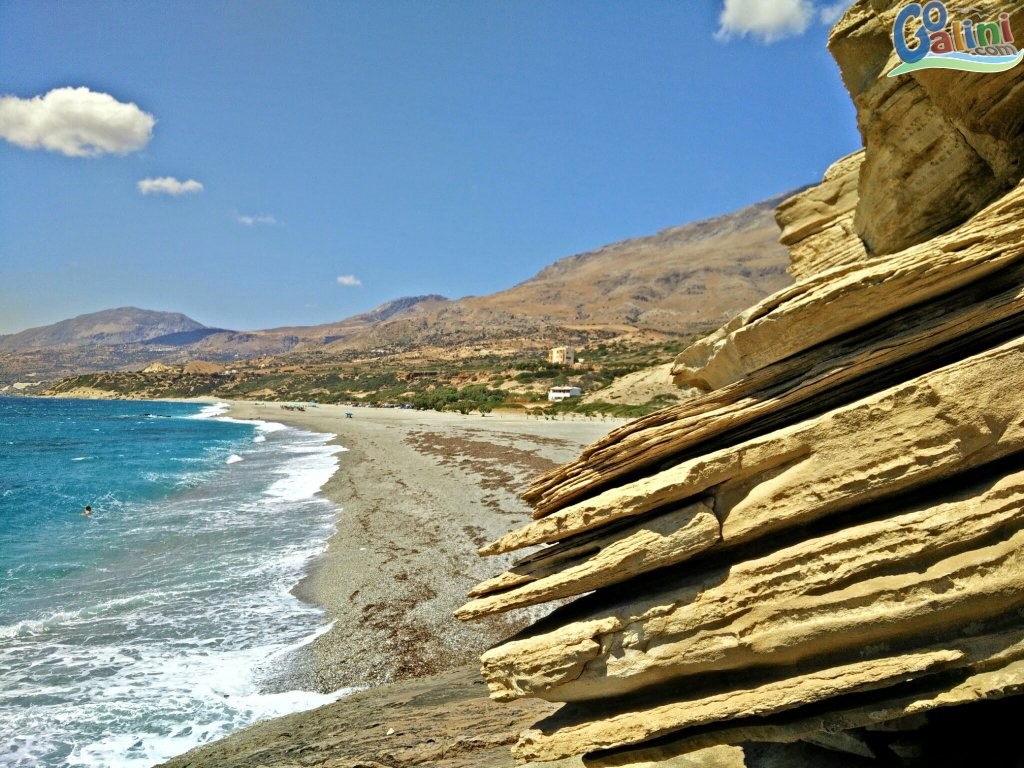 Skinaria Beach
Skinaria beach (or Shinaria) is located 33km south of Rethymno, 3km south of the village Lefkogia, in the east part of the wider Plakias area. The beach is relatively unknown to most locals, but for its few visitors it remains a heaven and some of them regard it as one of the best beaches of Crete. Skinaria is a small beach with soft gray-beige sand and fine pebbles, with crystal blue deep water. The seabed is rocky, but on the north part of the beach, it is sandy. Life thrives in the area, in and out of the sea. On the beach there are small ponds with fresh water that comes from springs that carry water from the surrounding mountains. Around these lakes lush vegetation has been developed, reminiscent of tropical landscapes like Preveli palm beach. Moreover, locals say that the life in the sea is as vivid as that on the beach. Indeed, the seabed of Skinaria is one of the richest on the island. It hosts huge morays, blackfish, octopus and generally all types of local marine biology, in abundance. Furthermore, water clarity is really impressive, exceeding 40m in horizontal direction. It is also an ideal destination for scuba diving enthusiasts.The beach is slightly organized, with a tavern offering a few umbrellas and refreshments. The last time we visited the beach, umbrellas and sunbeds were free if you bought refreshments. The place is also ideal for camping.
Ammoudi Complex (Kleisidi Beach)
Ammoudi is a beach complex located 32km south of Rethymno and 4km east of Plakias. To get here, you have to drive by paved road from the village Lefkogia. West of Ammoudi starts a dirt road that leads to Damnoni and passes next to towering cliffs and imposing rocks. Just 200m west of Ammoudi, along the dirt road, you will find a parking plateau that has unrestricted view to Damnoni. Right there, on your left hand, you will see a spectacular miniature sandy beach, with turquoise waters and a characteristic rock in the sea. The beach is shaped between two little oblong rocks. The beach is named Klisidi and is an ideal choice when no people are there (quite rare).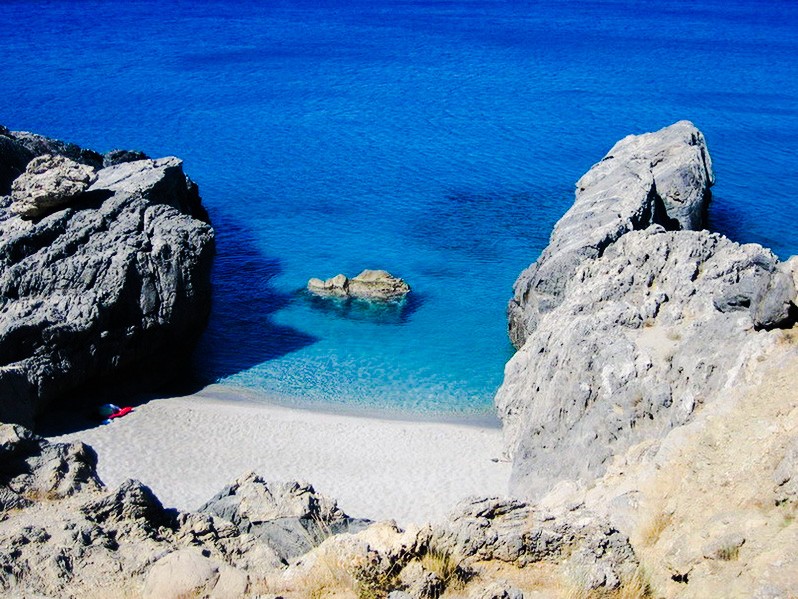 Eco events is one of a few agencies that are experts at creating unique private tours to secluded paradises like the ones mentioned! Think of your ideal destination and come to us! Everything you are dreaming, we can make it happen!! For more info, feel free to contact us at any time.